iDEAL integration
for MINDBODY
Support iDEAL, the most used payment method in the Netherlands, plus many other payment methods. We have created an easy integration for your website.
Get started now to become an early adopter.
Get early access here!

Official partner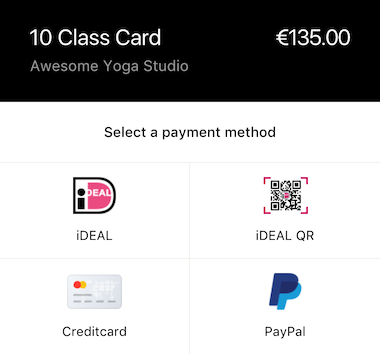 Key features
Keep clients on your website by providing everything within your own environment.

Payment module
Increase conversion and boost your sales by supporting iDEAL, the most used payment method in the Netherlands.

Schedule integration
Embed your class schedule seamlessly within your website, users can book or cancel a class with a single click.

Custom styling
Adjust the layout to match your website's branding. No technical knowledge or design skills required.
There's more

Register page
Let new clients create a MINDBODY account on your website.

Login page
Clients can login without being redirected to MINDBODY.

My profile
Clients can update their settings and view their account balance on your site.

Products overview
Display your offerings and allow customers to compare products.

Product links
Connect our checkout flow with simple links to your existing products.

Review orders
Inspect and analyse orders in your WordPress admin panel.